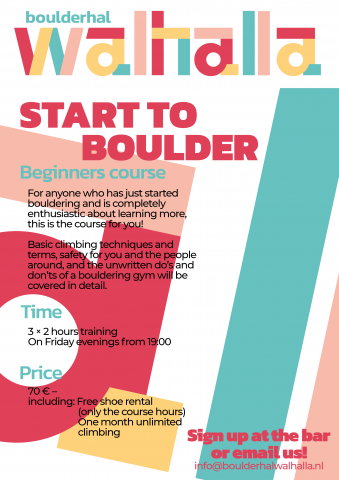 At the moment we are offering 2 courses:
Technique course "5c and up".
This course is for people who are already familiar with bouldering but feel that they are stuck at a certain level.
(Yes, you can also participate if you climb 5b as long as you are "experienced" and would like to learn more about bouldering and technique.)

Every 4th week we start with a new round of classes starting on Thursday at 19:00.
Price: € 50 (excl. Entrance)
Start to boulder!
For anyone who has just started bouldering and is completely enthusiastic about learning more about bouldering after the introduction lesson, this is the course for you!
Attention is paid to basic climbing techniques, safety for you and the people around you. The unwritten do's and don'ts in our gym will also be discussed and the basic bouldering terms will be explained. What are those toothbrushes on a stick for, for example?

Every 4th week we start with a new round of classes starting on Friday at 19:00.
Price: €70,- 
Including 1 month of unlimited access to the bouldergym, starting the first day of the course.
Free shoe rental for the duration of the course. (Although we recommend buying your own pair)