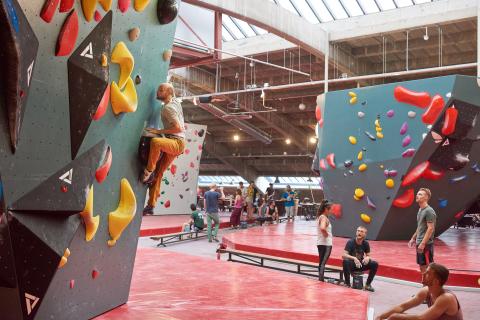 Monday:       09:00 - 00:00
Tuesday:      09:00 - 00:00
Wednesday: 12:00 - 00:00
Thursday:     12:00 - 00:00 (We are setting boulders until 17h. Some parts of the walls might not be open to climb on.)
Friday:          12:00 - 00:00
Saturday:      09:00 - 23:00
Sunday:        09:00 - 23:00
The lights in the boulder hall go out around 23:00. However, the lights in our bar and seating area stay on for at least an extra hour, and if it is very cozy, perhaps longer. But that is entirely up to you. :)
We are also open outside opening hours for groups. Do not hesitate to contact us.
Parking:
Parking at Boulderhal Walhalla is paid. There are, however, sufficient parking spaces at the front and back of our hall.
It is also possible to park at the megastores. This is a good option, especially during the day and on weekends. Pay attention and keep an eye on the closing time of the Megastores.
 
Bicycles:
Boulderhal Walhalla is easily accessible by bicycle. We are 5 minutes by bike from the center of The Hague and the Haagse Sportcentrale offers an extensive bicycle shed
Felyx:
Do you know those green scooters that you see so often driving through the city? Well, they can also be parked at our door. And after bouldering, there is always one ready for you to drive home again.